Messermeister
After 40 years of making our staple line of German knives, we went back to the drawing board to reinvent the way German knives are made. After two years of development, the result is our new Messermeister Custom line and it's a game-changer. This new knife line is a modern take on the classic triple-rivet, full-tang German design.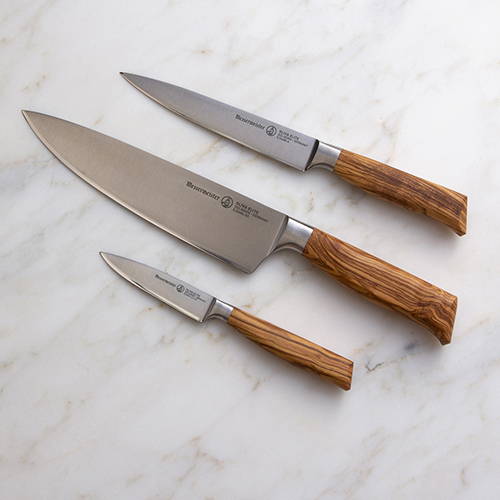 The Oliva Elite knife collection by Messermeister boasts an exquisite natural, Mediterranean olive wood handle in the popular straight tang, forged knife line series.
The Meridian Elite knife collection by Messermeister defines tradition with the triple-rivet, full-exposed tang series. These knives are one piece, hot-drop hammer forged from a single billet of the finest German 1.4116 stainless steel alloy and outfitted with the most durable industrial strength handle in the world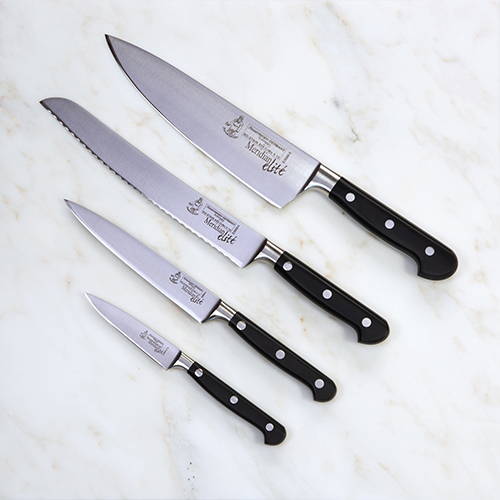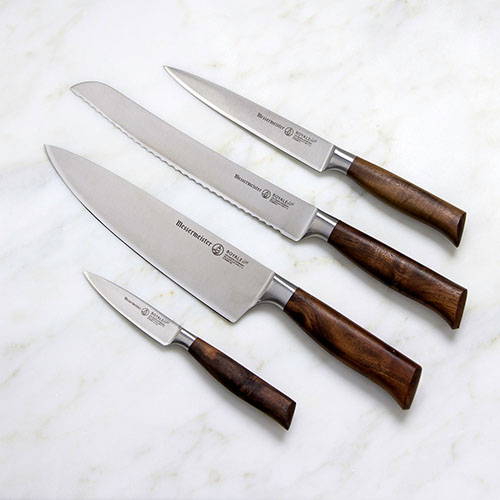 Royale Elite combines a beautiful American Walnut Burl handle to a fine German stainless steel blade. Walnut burl features a rich brown flared pattern and is prized for its hard and strong characteristic as a handle material.
KNIFE LUGGAGE & ACCESSORIES

Messermeister remains the principal designer of knife luggage in the world. Commercial nylon, denim, industrial felt and cotton canvas bags and rolls are opened and closed with durable YKK zippers. Offering an assortment of bold coordinated prints and colors with perfectly executed layouts makes our knife luggage functional, stylish, and heavy duty.